Sony Opts For Xperia XZ2 Pro or Xperia XZ2 Redesign Ahead of MWC 2018 Release
Purnima Gupta
Sony is rumored to launch the Xperia XZ2 Pro or Xperia XZ2 flagships at MWC (Mobile World Congress) 2018. However, the latest Federal Communications Commission (FCC) filing with the U.S. reveals that the tech giant has already sought permission to redesign its flagships.
The latest reports confirm that Sony has approached Federal Communications Commission (FCC) in the U.S for request of the redesign. The Japanese tech giant is looking to change the design of its device with id PY7-00718V. Sony approached FCC for dismissal of grant ahead of MWC  2018. The company is buckled up to introduce its coveted smartphone models – Xperia XZ2 Pro and Xperia XZ2. These flagship models are lined for MWC 2018 launch and reportedly, very different from the existing models of Sony. With the launch, Sony is poised to bid goodbye to Xperia Omnibalance design.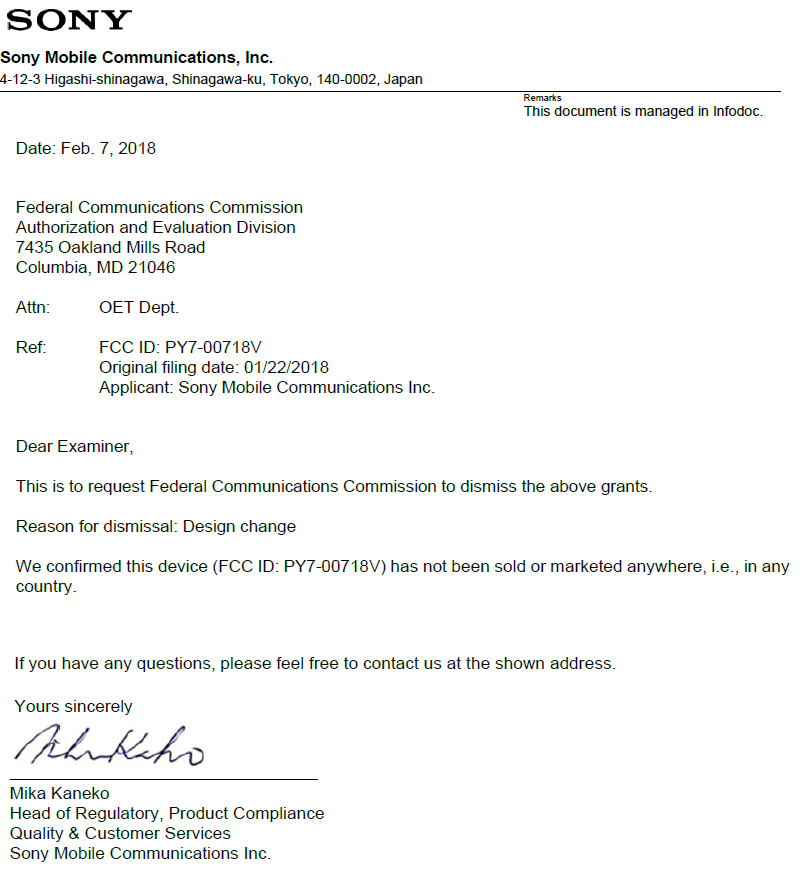 Ahead of its participation in MWC, both Xperia XZ2 Pro or Xperia XZ2 smartphone models were FCC certified. As the launch is yet take place, Sony is most likely to get approval for the redesign. Though, the company has sought the change just a few day ahead of MWC 2018. This could be an indication that Sony is not contemplating any major change.
The FCC request by Sony has raised quite a few eyebrows among the mobile gurus. Should smartphone users anticipate something big coming up? Right now, the scenario is foggy. We would really wish to see features like borderless display and an advanced design from Sony. The final confirmation is likely to release by the company right before MWC 2018, scheduled to take place on 25th February, Barcelona.
Smartphone enthusiasts are expecting Sony Xperia XZ2 Pro and Xperia XZ2 to sport a full-screen HD display.  When Sony Xperia XA2, XA2 Ultra L2 were launched, users expected a full-screen display. Contrarily, at that time Sony stuck to its traditional Omnibalance design. Let us see if this time the mobile giant might be preparing to surprise its fans.
For our readers, what do you think could be the strategy of Sony behind this sudden redesign request? Do tell us in the comment section below.
Image Credit: 1
https://www.73buzz.com/xperia-xz2-pro-or-xperia-xz2/
Share This Post