Oppo R17 Pro With Snapdragon 710 And 8GB RAM Spotted At GeekBench
Cameron
To all everyone that's always been on the lookout for new details regarding the Oppo R17 Pro, there's some good news for you all. Apparently, the said smartphone has been spotted on the Geekbench benchmark, revealing some interesting details.
The Device
According to reports, an unidentified Oppo device with the codename CPH1887 was seen at GeekBench. It features a Snapdragon 710 chip, 6GB of RAM and is running on Android 8.1.0.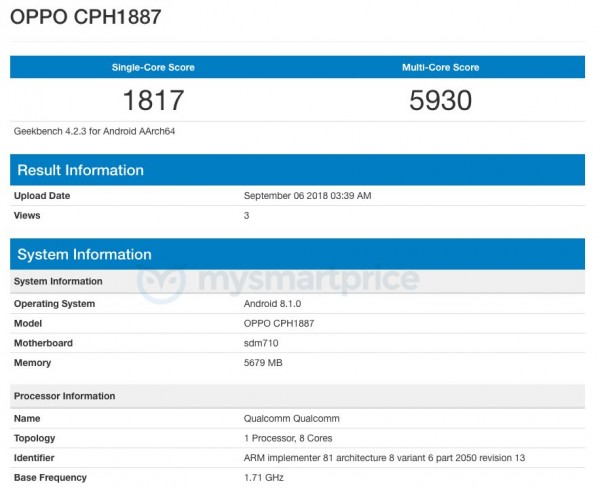 Because of this, it is assumed to be the Oppo R17 Pro under a different name because the Oppo R17 Pro is rumored to come with the same chip and will also be running on the OS mentioned as well. As for the RAM, it's expected to feature 8GB and 128 GB internal storage with an expandable storage of up to 256 GB.
But What If The Reports Are Wrong?
Well, another possibility is that it could be its younger sibling – Oppo R17 – which is said to come in two variations 6GB+128GB and 8GB+128GB. However, with this, the chipset differs as it is expected to be packed with an SD 670 chip.
This is where the dilemma lies and the only thing we can be sure of is that it is indeed an Oppo smartphone on the R17 series. But of course, without any official confirmation from the company, it's best to take it with a pinch of salt. Who knows, it could be an entirely different device instead.
When Is It Coming?
It has been unveiled last month along with its younger sibling. As for its availability, it is expected to be released in China around mid-October. Although it isn't 100 percent sure when will it be made available on the markets outside of China, some reports suggest that it could also be in October.
How Much Will It Cost?
Regarding its price tag, well, given that it's a premium flagship, it is priced at 4,299 Yuan which translates to $629. However, keep in mind that this is for the 8GB/128GB storage model.
What do you think? Is it really the Oppo R17 Pro? We would like to hear your thoughts and opinions in the comment section below.
https://www.73buzz.com/oppo-r17-pro-snapdragon/
Share This Post