Nvidia Geforce RTX 2080 vs AMD Vega 64 LC Benchmark Results: Gamers Disappointed With Nvidia GPUs
Cameron
A benchmark test comparison for the Nvidia Geforce RTX 2080 series and AMD Vega 64 Liquid Cooler (LC) GPU cards have been released. Based on the results, tech enthusiasts were not happy with it.
GeForce RTX 20 Series
The RTX 2080 and 2080 Ti were launched in September this year. The RTX 2080 was priced at $699 and $799 for its Founders Edition. Meanwhile, the RTX 2080 Ti was $999 and $1,199 (Founders Edition).
AMD Vega 64 Series
The Vega 64 and 64 LC were released in August of 2017. The former sported a price tag of $599, while the latter was $699.
The Comparison
The benchmark test was conducted by Techspot on the racing game Forza Horizon 4 which hit digital stores two weeks ago developed by Playground Games and published by Microsoft Studios. It features over 450 licensed cars and is set in a fictionalized representation of the UK.
On the benchmark results, tech enthusiasts were dissatisfied with the results because Nvidia 2080 is delivering just a few frames higher than the 64 LC with about 15 to 20 percent more cost.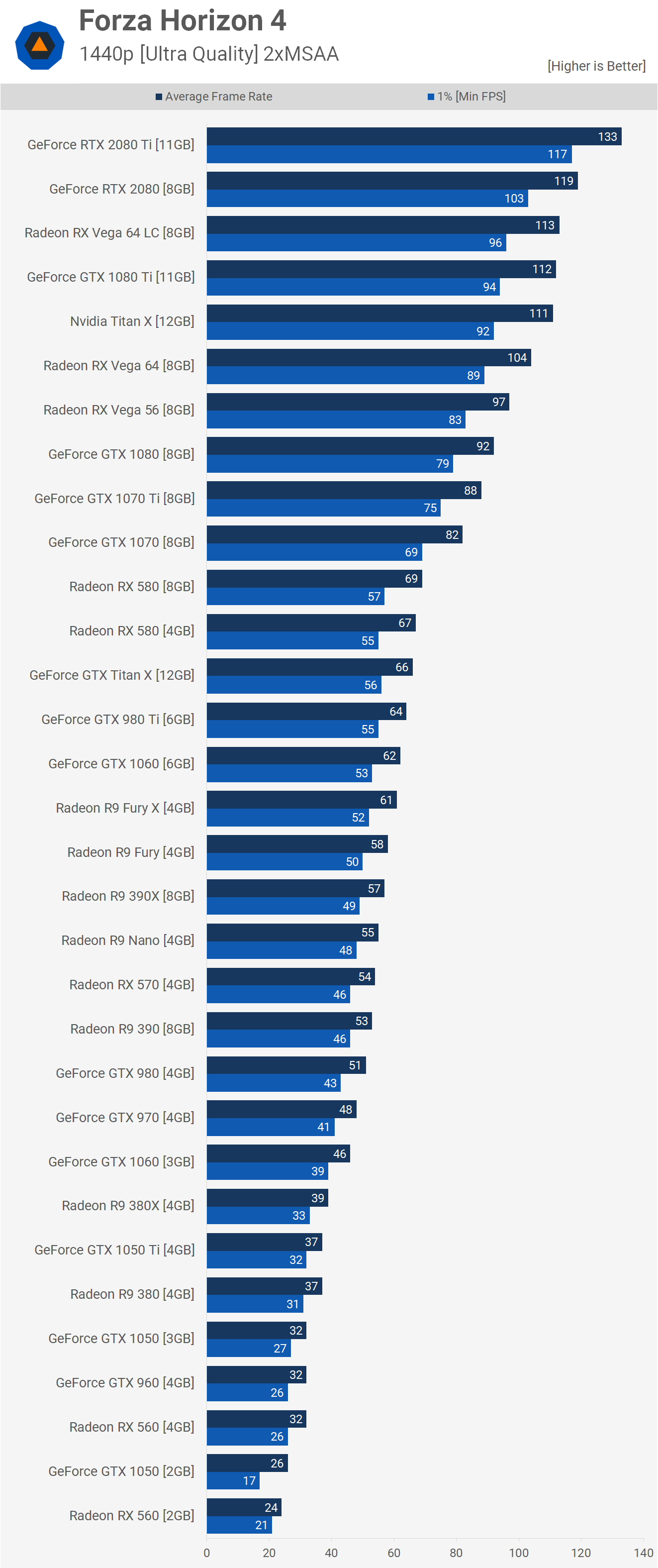 As you can see from this benchmark result for the 1440p [Ultra Quality] 2xMSSA, the GeForce RTX 2080 Ti [11GB] features an average frame rate of 133 and a minimum of 117 frames per second.
However, what really caught the attention of tech enthusiasts is the performance between the RTX 2080 [8GB] and the Vega 64 LC [8GB]. Considering the price tag and release dates alone, it led many gamers disappointed.
This next benchmark result is for the 1080p [Ultra Quality] 2xMSAA. Just like the previous benchmark, the Geforce RTX 2080 Ti stands on top followed by the RTX 2080 [8GB] and then Vega 64 LC [8GB].  Again, both the RTX 2080 [8GB] and Vega 64 LC [8GB] are very close with their performance which no doubt disappointed gamers.
What can you say about Nvidia's RTX series? Do you think the company should bring down the price tag? Tell us in the comment section below.
https://www.73buzz.com/nvidia-rtx-2080-vs-vega-64/
Share This Post