MacBook 2018 and iPad Pro 3 Might Be Already in Works? - Latest Leaks Detailed
Daphne Planca
The tech giant Apple seems to update and refresh the iPad and Mac lines later this year. The company just registered five new models with the Eurasian Economic Commission (EEC) this week.
According to MacRumors, the French website Consomac uncovered the registrations in the Eurasian database. The filings got surfaced just a few weeks before new product announcements. It includes the company's operating system versions. It also suggests a near-term launch probably in Kazakhstan, Armenia, Russia, Belarus, and Kyrgyzstan.
The five Mac personal computers have the model numbers A1931, A1932, A1988, A1989, and A1990. All of them will run the macOS version 10.13 called High Sierra. The last three (from A1988 to A1990) are new MacBook Pro SKUs (MacBook 2018) and are expected to be upgraded for the 13-inch MacBook Pro and the 15-inch MacBook Pro.
Meanwhile, the first two (A1931 and A1932) could be related to the refreshed 12-inch MacBook and possibly replace the aging MacBook Air. The company has been gradually phasing out the latter. It is rumored to be planning the launch of the new 12-inch model in the second half of this year.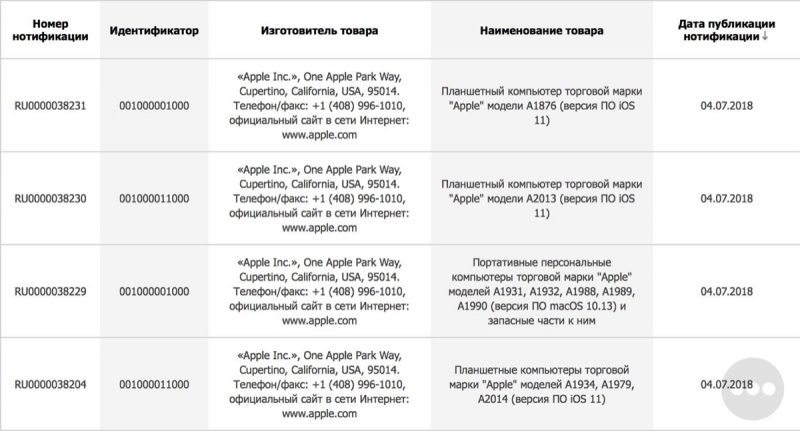 Then, the five new iPads (likely iPad Pro 3) have the model numbers that are harder to decipher. Another report claimed that one of these models will offer a display with approximately 11 inches suggesting slimmer bezels in line with the latest leak.
All the iPads will run iOS 11 instead of iOS 12 since the company will still introduce it likely in September. They are speculated to feature thin bezels, a faster processor, a TrueDepth camera, a custom Apple-built graphics processing unit, and Face ID technology without the Home Button.
In terms of the operating system for all the upcoming devices, the company may update the Mac line before macOS Mojave is out and introduce the new OS to accommodate iPad's new features. For now, the Mac lineup is long overdue for an upgrade while the new iPads are expected to unveil sometime around September.
What are your thoughts about the latest leaks of the MacBook 2018 and iPad Pro 3? Share them by writing in the comment section below.
https://www.73buzz.com/macbook-2018-and-ipad-pro-3/
Share This Post