Argos Accidentally Leaks REAL DJI Mavic 2 'Pro' and 'Zoom' Specs and Features
Cameron
Expected to be released this year is the DJI Mavic 2. Although the company has been trying to keep details of the said device under wraps, it seems that Argos, a British catalog retailer operating in the United Kingdom and Ireland, may have "accidentally" leaked it, prior to its release date.
The Leaked Images
A number of people have already posted the leaked images of the Mavic 2 on their Twitter account. As you can see, it features two versions of the device; the 'Pro' and 'Zoom' version.
https://twitter.com/Chromonian/status/1023129840839483393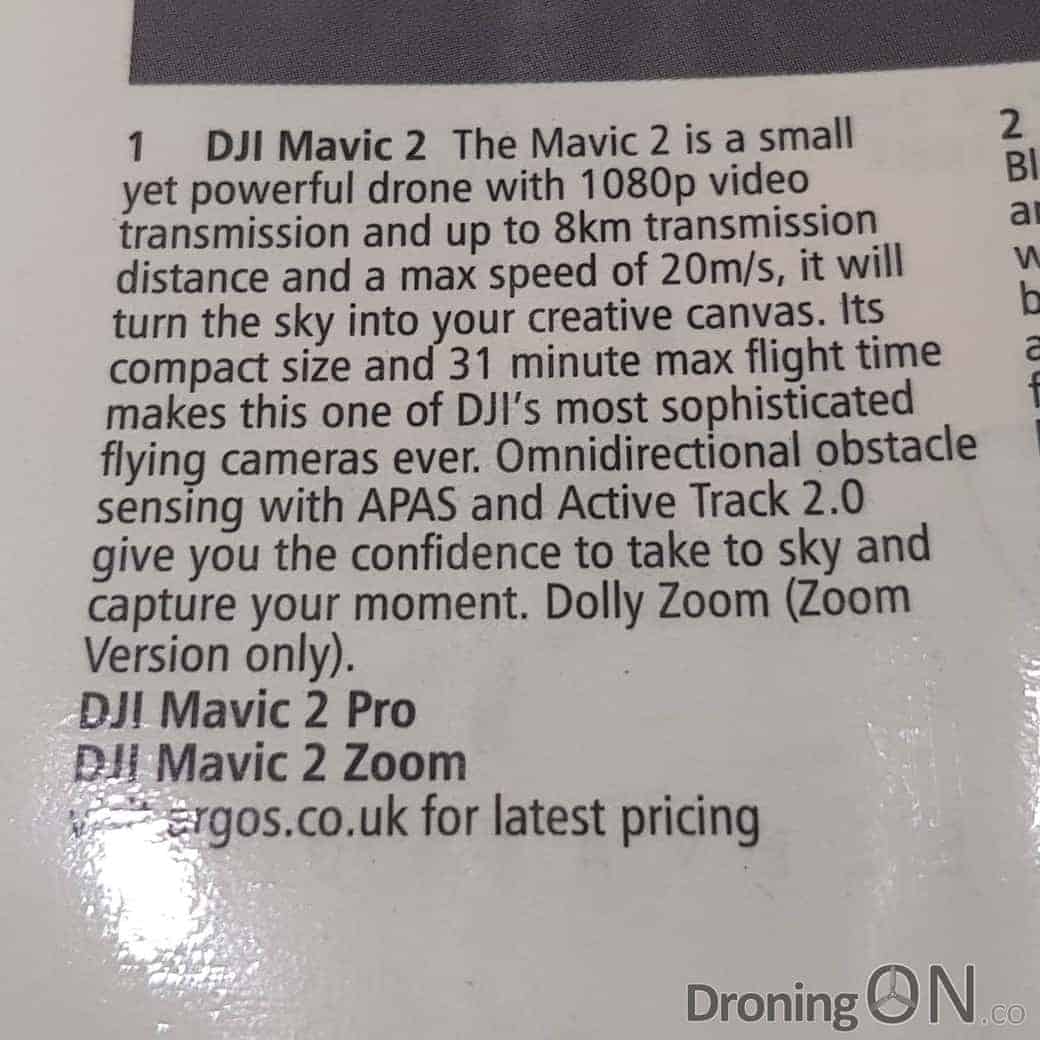 When people got wind of it, Droning On went to a nearby Argos store and streamed it live on YouTube to confirm whether the images shared online were fake or not. According to them, while they were questioning one of the store's staff, the employees were still unaware of the leak. However, as they departed from the store, they noticed that the store's employees were starting to pick up and moving the catalogs stacked at the front entrance which made them assume that the store has finally realized its mistake and are doing damage control.
When Is The Release Date?
According to a report, there are two possible dates. One is that DJI Mavic 2 could be released late July, while the other is that could be released on August.
What Was Written On The Catalogue?
As already mentioned, there are two models. The Mavic 2's Pro version will feature a Hasselblad camera with a 1-inch sensor, while the Zoom version will have a 2X optical zoom lens (24mm – 48mm).
Both drones will feature 31 minutes of flight time, max speed of up to 20m/s, and able to transmit 1080p video up to 8 kilometers. Furthermore, it features omnidirectional obstacle sensing with APAS and Active track 2.0.
DJI Responds
After the leak went viral, a Facebook user named Isa Turan contacted DJI via Facebook to asked whether the leaked as real or not. Here's what the company replied:
Basically, yes, it was real. Also, it seems that there are still many more exciting features and capabilities that will be announced at the proper time.
So what are your thoughts and opinions about the leak? Are you excited about the Mavic 2? Which version do you prefer? Tell us in the comment section below.
https://www.73buzz.com/leaks-dji-mavic-2-pro-zoom/
Share This Post