Latest Patent Surfaces Revealing Motorola's Foldable Phone With Clever Heating Hinge
Daphne Planca
The tech company Motorola seems to be catching up with the latest trends in the foldable phones. Smartphone manufacturers are racing to get the crown of the first company to release such technology. However, the search is still ongoing for the development of a durable flexible display.
Although OLED displays are quite flexible, this type of display gets damaged easily when it is folded frequently. Its deformation is not quite permanent, but with some stability or endurance if it is too long in half-folded position. Folding the screen repeatedly will possibly leave a visible crease in it.
According to the tech site, LetsGoDigital posted a patent from Motorola that might have come up with a solution and counteract this deformation. The company patented a "Method to recover permanent set in a foldable display." United States Patent and Trademark Office (USPTO) granted this patent last June 14.
In the patent, the Motorola foldable phone comes with a thermal element and an integrated temperature sensor. These are built into the foldable part of the device, which is in the hinge. "This design is used to allow the flexible OLED smartphone to flex both inward and outward, possibly having more than just one hinge to ensure tighter folding."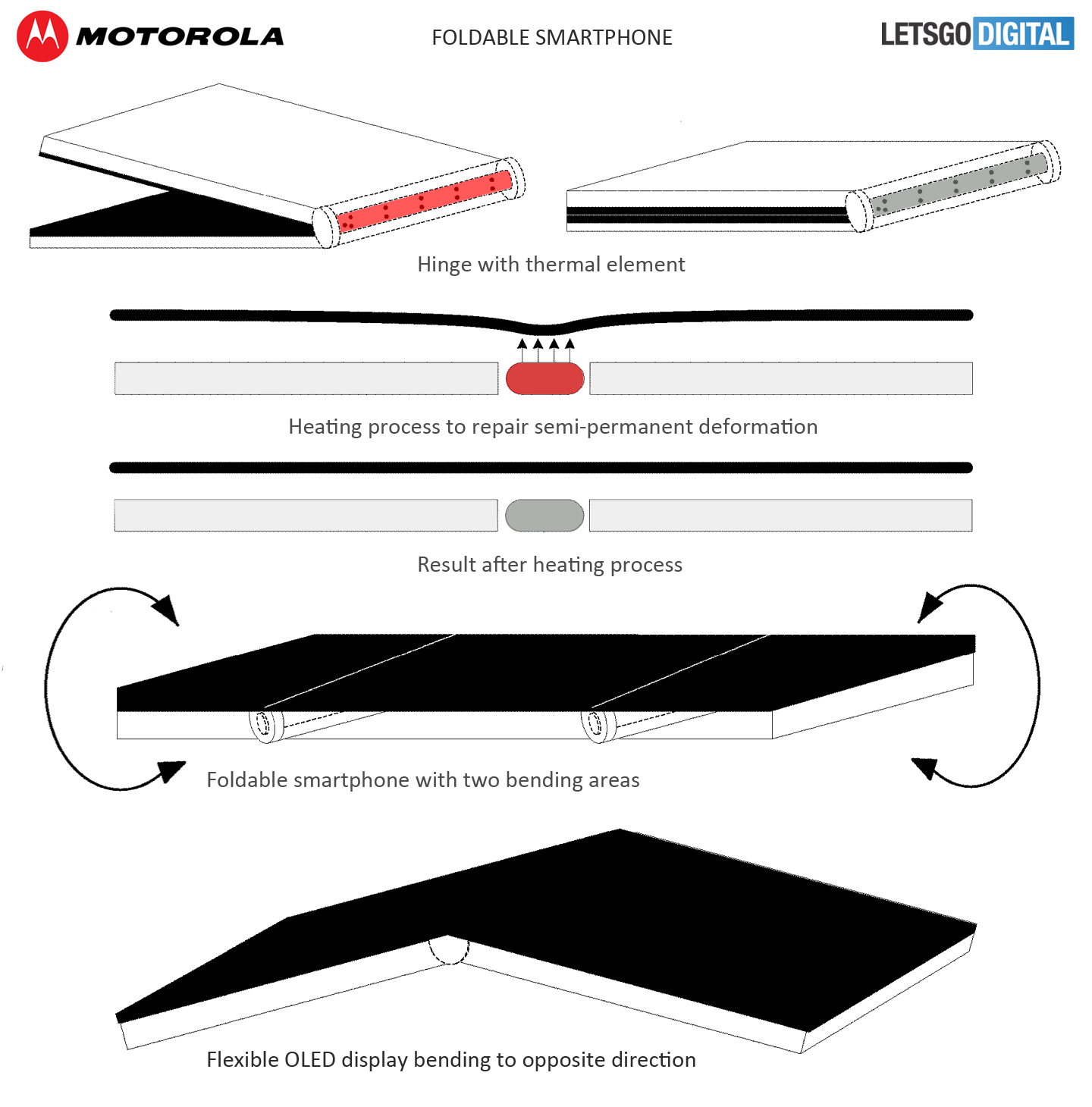 When the device is completely flat with the screen inactive, the sensor will detect it and then activate the element. The dynamic heating process starts to increase the temperature of the display around the hinge. It will remove the creases to act against deformation. Once the temperature becomes too low, the hinge automatically heats up to correct it.
This clever patent from Motorola was applied way back in 2016. It may not have a phone tagged along with it, but soon, we will see it with its mechanism. However, the Samsung Galaxy X will likely be the first flexible OLED phone to be released in the market since it is recently reported to happen next year. Meanwhile, the long-anticipated Microsoft Surface Phone is rumored in its final stage of testing.
What do you think of the latest patent about the Motorola foldable phone? Let us know by writing in the comment section below.
https://www.73buzz.com/foldable-phone-motorola/
Share This Post