Apple MacBook Pro 2019: Everything We Know So Far!
Cameron
Tech enthusiasts are looking forward to the wonderful gadgets that are expected to come this year. One of those devices is the MacBook Pro 2019 from Apple.
So when can we expect it? What are its specs and features? Well, read on to find out what to expect from the said Apple laptop.
The Release Date
Last year, while tech enthusiasts were expecting the MacBook Pro 2018 to be presented at WWDC 2018 in June because the 2017 version was launched in WWDC 2017, that didn't happen which then led reports to point towards September at the iPhone event. However, out of nowhere, Apple did a surprise release instead in July 2018.
So for the MacBook Pro 2019, it's really hard to say when it will come unless Apple makes an official announcement. Yes, we can speculate that it could come in June or July, but we can also argue that Apple might do a surprise release on another date.
The Price Tag
For the pricing, the MacBook Pro 2019 is expected to feature a similar price range to the 2018 models. As stated by a report, the current non-Touch Bar MacBook Pro lineup is led by a $1,300 13-inch model with seventh generation Intel Core i5 Processor, 8GB RAM, and a 128GB SSD. Meanwhile, the 13-inch model with the Touch Bar and 8th-generation processors starts at $1,800 while the 15-inch version is at $2,400.
A New Design?
According to well-known Apple analyst Ming-Chi Kou, a new MacBook Pro with a screen size of 16 to 16.5 inches is coming this year. Aside from the increase of the screen size, in terms of design alone, nothing much is really known.
However, this month, there was an Apple patent spotted which shows that was considering a transformable glass keyboard for MacBook. It was made to counter the current butterfly switch MacBook keyboards that are more likely to be damaged by dust and other foreign elements.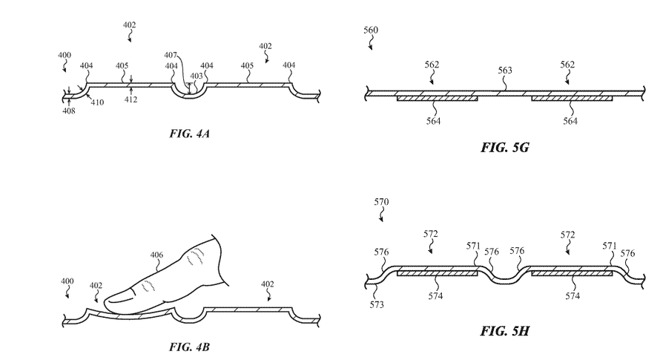 Could the MacBook Pro 2019 feature his design? That we don't know as patents don't really serve as a 100 percent guarantee that the concept will appear in a future product.
New MacOS Coming
Another thing to look forward to is the new MacOS updates. Usually, Apple announces them at WWDC. So just in case, Apple will launch the MacBook Pro 2019 at WWDC and the new MacOS updates, that would be one hell of a combination — a new laptop with new MacOS features.
Speaking of MacOS, Apple has a multi-step initiative called "Marzipan" which will begin this year and will combine iPhone, iPad, and Mac apps by the year 2021.
Apparently, this WWDC 2019, Apple may release a new SDK (Software Development Kit) that allows developers to port their iPad apps over to Mac. By 2020, the company will then begin to expand that SDK to bring iPhone apps to Mac, while Apple will give developers the ability to merge iPhone, iPad, and Mac apps into a "single binary" in 2021.
The Processors
For the MacBook 2019, the most likely candidate could be the Whiskey Lake Processors which were announced back in August 2018 and are already featured in some of the latest Windows laptops. However, there are also other potential candidates as well, such as the new 9th generation processors from Intel but the chances are slim.
Are you looking forward to the MacBook Pro 2019? Tell us in the comment section below.
https://www.73buzz.com/apple-macbook-pro-2019/
Share This Post