2019 Smartphone Rumors And Leaks: Samsung Galaxy S10, OnePlus 7 And Nokia 9 PureView
Cameron
With 2019 just a few hours away, what we have for you today is a preview of what to expect from the upcoming smartphones of 2019. On our list, we have the Samsung Galaxy S10 which is reportedly coming with facial recognition, OnePlus 7's design leak, and Nokia 9's latest penta-camera design.
What The New Code Found In Samsung's Android Pei Update Tell Us
According to a report from BGR, a new code was found in Samsung's Android Pie update suggesting that the company's upcoming Samsung Galaxy S10 may come with 3D facial recognition support.
BGR notes that XDA Developers found data strings that make reference to Time of Flight (ToF) cameras. This technology is commonly used for 3D mapping and can help differentiate between a 2D photo and an actual 3D face.
So when is the Samsung Galaxy S10 coming out? Techradar reports that it could launch in early 2019. To be specific, it could be on February 20, 2019.
Is This The OnePlus 7?
According to Forbes, OnePlus has confirmed that in the first half of 2019. The Shenzen-based tech company will be launching at least 2 phones – the OnePlus 7 and the speedy as yet unnamed OnePlus 5G-capable handset.
Two weeks ago, Twitter user Ishan Agarwal (@ishanagarwal24) from India shared a photo of an unknown OnePlus handset. It's the one plastered on the screen, not the one Pete is holding.
EXCLUSIVE! Here's your first look at an upcoming OnePlus Device I don't know much about. This image shows the device in prototype/designing stage and it is not final but this is probably how the device may end up looking. That's Pete (CEO of OP) in the img and the device itself. pic.twitter.com/Yau9EsgSDy

— Ishan Agarwal (@ishanagarwal24) December 19, 2018
Ishan notes that the OnePlus device on the screen is on its prototype/designing stage. However, there is a chance that this could be the design that the device may end up with.
So when can we expect the company to launch the OnePlus 7? Well, it's hard to tell exactly when considering that the OnePlus 5 came out in June 2017, while the OnePlus 6 in May 2018. With this, we can only speculate that it could be released between May and June of 2019.
As for the 5G-capable variant, we don't have a clue. Perhaps it will be released along with the OnePlus 7?
Nokia 9's Case Renders
Back in September, we reported about HMD Global expected to release the Nokia 9 sometime this year. So far it hasn't happened yet. Instead, what we had was the Nokia 7.1 launched in October followed by the Nokia 8.1 in December.
We also noted rumors from other news outlets that the said flagship smartphone will be the first Penta-lens smartphone in the world. And yes, there have been rumors and leak renders featuring its penta-camera setup in the past few months.
In fact, this time around, there are new renders of the Nokia 9 carrying the company's "PureView" branding to the next level.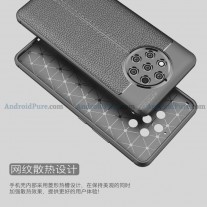 An "Unknown" Pixel 3 XL?
We want to add in a little extra. There's these two YouTube Christmas video from Google featuring Home Alone star Macaulay Culkin and Google's devices. One was uploaded by IGN, while the other was from Google.
On 0:16 of both videos, although both features the "Pixel 3 XL", there was a bit of difference between the two in terms of design. Many pointed about the notch design. However, some folks from Notebookcheck's comment section explained the reason for the difference.
"People that do not have a pixel xl3 need not comment. YOU CAN hide the notch in the developer settings and it looks exactly like the first video with the large top bezel" – Davidbbbb

"This isn't a new version. It's the same version…with the software function active." – Steven Schnepp.
What are your thoughts about the rumors mentioned in this article? Which smartphone are you looking forward to the most? Tell us in the comment section below.
https://www.73buzz.com/2019-oneplus-7-nokia-9-galaxy/
Share This Post