14 Most Watched Web Series of 2017 For You!
Purnima Gupta
Web series are a prove how this world is going digital, every day. So, when the internet is driving the audiences and viewers, people today prefer to watch shows online. Viewers are binge-watching web series over YouTube and through the application platform of smartphones. Who knew that watching entertainment or sitcoms will go through such an evolution?
When the times have changed from entertainment perspective, then why not we assist you in finding you the best ones. Here we are providing an exhaustive list of popular web series from every nook and corner of the internet world. So have a look at the below list and check out why and what people are watching over the web.
Master of None
This series shows the story of the main character, Aziz Ansari who is trying to find the meaning of life, love, and situations in this 21st century. It a part of Netflix original series.
Stranger things
This science fiction web series is based on a terrifying yet intriguing terror plot with a background set in 80's era. This one is also a Netflix original series.
SOS – Save Our Skins
A horror comedy plus sci-fi story which tells the tale of two friends who land in New York for the sci-fi convention. Quite horribly, they wake up to a human-less world the next day.
Lemmings
Lemmings narrate a dark story. It revolves around a group of friends who take an agitated stand after an unfortunate incident of their friend's death.
Fully engaged
It's a satirical take on engagement and weddings. This web series shows how weddings become a place for satire and parodies. The Pioneers
A sexually inexperienced couple decide to open up and give a sexual twist to their story.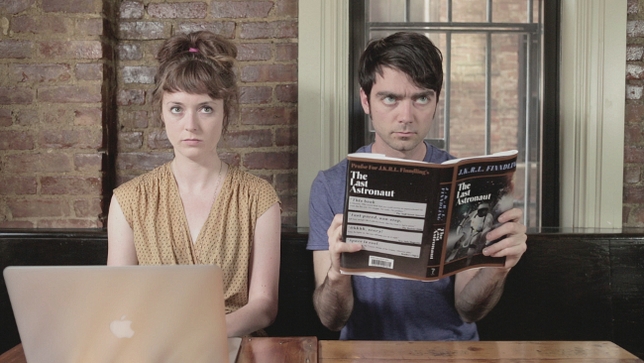 Amateur Dicks
A comedy web series about close friends who become detectives while trying to utilize their free time.
47 Secrets to a Younger You
Again a comedy, the story is about two middle-aged woman who is struggling with their career, kids, and life.
Adulting
It's a satirical web series about a group of friends, trying to figure out the meaning of being an adult while they are in their early 20s.
Subway
A series about a woman's struggle in New York city which leads to many comical situations.
Affordable NYC
Two homogeneous couples try to find a venue in New York City. An overly expensive makes their quest pretty difficult leading to many comical situations.
Ah Man
A social comedy about roommates who discovering the reality of colonialism, racism, and friendship in an urban setup.
Black Mirror
Black Mirror shows a peek into the fears of people owing to the future and technology. It is a science fiction based anthology.
Narcos
A Netflix original, Narcos is a sophisticated take on drug kingpin and his faceoffs with investigating officer.
Her Story
This web series is a six-episode story of trans women in Los Angeles and gives a peek into their love and dating lives.
Now, you do not need to stress out anymore. Just read the list and simply catch the show.
Image Sources: 1, 2, 3, 4, 5, 6, 7, 8, 9, 10, 11, 12, 13, 14
https://www.73buzz.com/14-watched-web-series/
Share This Post