Foldable phones are all set to take the smartphone technology by storm this year. Microsoft, ZTE, and Samsung were rumored to be working on such handset for a long time. However, ZTE has actually delivered such a device dubbed as Axon M. Now, Surface Phone and Galaxy X are the ones which are rumored to release this year. Apart from these 3 smartphone makers, LG is also said to be working on such smartphone. LG's latest patents reveal that tech giant is also working on a foldable device.
Samsung has reportedly revealed its Galaxy X at the recent CES 2018 in a private meeting. The device from Samsung may release anytime by the end of the year or early 2019. Microsoft China's engineer confirmed the existence of Surface Phone recently. The rumored Microsoft Surface Phone also spotted recently on Black Mirror series and expected to launch at this year's MWC 2018. Now, LG has also weighed in with its own design for the foldable phone, revealed in a patent application. Nevertheless, Apple is supposedly  developing the one foldable smartphone but with LG beacause Cupertino based want to keep this a secret from Samsung, according to reports.
According to the Windows United report, Samsung wants to offer 2 different versions of the Galaxy X. One of them should be open to the outside, the other to the inside. If this rumor comes to be true then, in any case, the display diagonal in the unfolded state corresponds to 7.3 inches, which might be lengthy.
On the other hand, patents reveal that Microsoft Surface Phone display will actually be foldable which can be used as a tablet, PC or smartphone. In the foldable phones, how exactly the load in the bending area of the display will affect the longevity and will result in unclear image quality. However, the area where the display folds is a major challenge at the moment. The Korean tech giants are specialists in the screen area, so maybe they have indeed found a satisfactory solution to this.
LG Foldable Phone:
LG has filed patents which prove it is currently in the research part of the foldable smartphone designs and technology.  The LG's foldable phone will feature a fully foldable single-piece screen with a very small bend radius and it looks to be quite narrow when folded, according to the patent images by GSMinfo. This design looks almost same as ZTE's recently launched Axon M. The LG device, as per images below, looks like two smartphones which were joined together.

LG's rumored device seen in the image can be folded into smartphone mode but it doesn't feature a display on the exterior. Alternatively, Microsoft Surface Phone's is rumored to have an exterior display as well.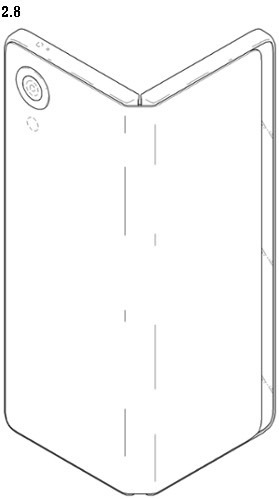 As usual, patents are not a concrete proof that the device is on the way to release. The full patent can be seen here, which was filed in July 2017.
So, what are your thoughts on LG's rumored foldable phone? Do you think it will give competition to Microsoft Surface Phone, Galaxy X or ZTE Axon M? Let us know in the comment section below.